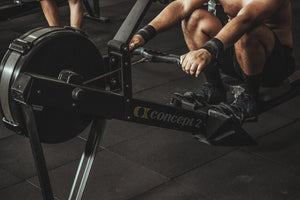 How to Improve Aerobic Capacity Training?
A usual workout program has three-components, flexibility, resistance, and cardio-respiratory. However, Crossfit WODs are precisely designed, and it targets all three component. It is the main reason, Crossfit is considered as the most robust genre of functional training. 
Cardio-respiratory training is the best way to lose fat as well as to enhance aerobic capacity. Aerobic capacity is an ability to use oxygen as fuel to improve physical activity. Many people are into Aerobic capacity, but most of them are not doing it right. Hence, today we will provide you some details through which even a novice person can improve its Aerobic capacity.
Adapt HIIT (High-intensity interval training) because it is not only a great way to burn calories, but it also enhances the aerobic capacity. During the high intensity, your body will consume ATP. On the other hand, during low intensity, it will depend on aerobic metabolism. It will ultimately replace the energy spent during HI (high intensity) training.
The most effective way to get completely out of your workout is to maintain a steady work rate. It can be possible to make LSD (long slow distance) a part of your training. LSD is entirely dependent on your aerobic energy; therefore, it works better than HIIT in improving aerobic capacity. However, if you are planning to lose a lot of calories with LSD, it cannot be done.
To experience changes quicker, combine two different training sessions, also known as cross-training. For example, start from Row Intervals for 10-15 minutes, then go for 10 minutes of HIIT training, 10-12 minutes of steady-state walking, and at the end 8-10 minutes of moderate training.
This complete training session will tear your body apart, but it will boost your aerobic capacity to another level. Moreover, it will also enhance your stamina and muscle endurance.
Want to have fun while enhancing your aerobic capacity while home? Play a dance game with your kids, Play Tag, Race (over and over and over again). 
Do not eat unhealthy food during your Aerobic training. Otherwise, all your efforts will go in waste.
The most important thing to do is to have fun, so clean off those shoes get some fresh air and feed those lungs and get your heart pumping. And always remember live by the motto, "Let Me Be Great"
---